She-Hulk faces two new, gamma-powered villains, whose evil plan is to steal the hero's gamma radiation to become the perfect Hulks.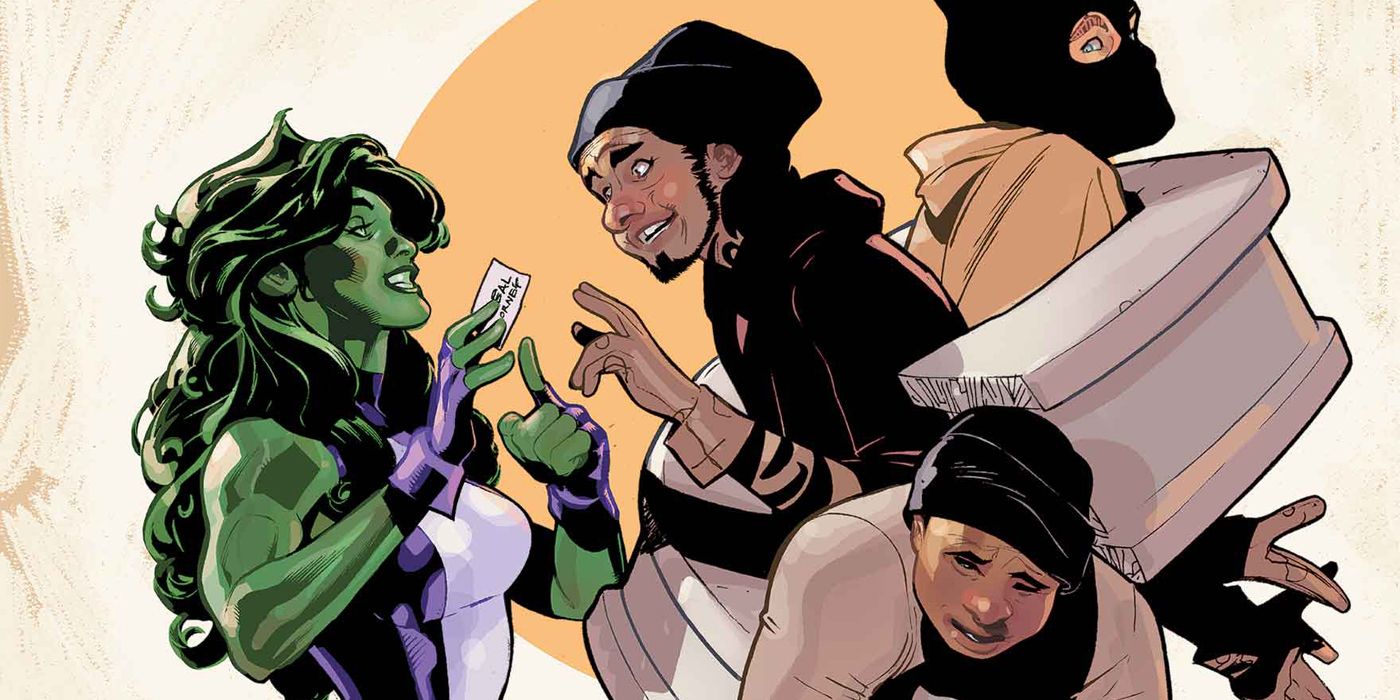 She-Hulk's newest villains, April and Mark Booth, have revealed their evil plan to Jennifer Walters.
April and Mark are two married scientists who faced harmful side effects after exposure to gamma radiation, giving April a ginormous head and superior intellect while Mark slowly lost his intelligence and regressed into a large Hulk. Their origin story was told in She-Hulk #8, which showed that the two brought the changes upon themselves by conducting an experiment to turn into ideal superpowered Hulks. Written by Rainbow Rowell and illustrated by Takeshi Miyazawa, a preview for the upcoming She-Hulk #9 reveals that the Booths' plan to fix their experiment gone wrong involves stealing Jen's gamma radiation.
RELATED: She-Hulk's Newest Enemies Are Recreating Her Worst MCU Moment
SHE-HULK #9
RAINBOW ROWELL (W) • LUCA MARESCA (A) • Cover by JEN BARTEL
VARIANT COVER BY TERRY DODSON • VARIANT COVER BY PEACH MOMOKO
DEMONIZED VARIANT COVER BY CAFU
It's time for the final showdown with our new villains.
Can Jen and Jack make it through alive?
32 PGS./Rated T+ …$3.99
Are She-Hulk's New Villains Behind Jack of Hearts' Return?
It seems that part of the Booths' plan also involves the resurrection of the Avenger Jack of Hearts. The main mystery of Marvel's current She-Hulk title is how Jack of Hearts has returned, being that he was assumed dead after traveling into space once his powers became too unstable to control. While Jack tried to remember how he had come back to life, readers caught a glimpse of him breaking out of a containment tube much like the one seen in the basement of the Booths, implying that they are responsible for his return.
By the end of the preview, April puts on a device that seems to give her Jack of Hearts' Zero Energy powers, which she intends to use to steal Jen's gamma energy. The device being used is connected to a container of Zero Energy, and if this was taken from Jack, it would explain why he has been left powerless in the series. At one point in the past, Jack was able to drain Jen's gamma radiation just by touching her, but as the two have grown close in the series, they have discovered that Jack has been reduced to a normal man, something he has embraced.
RELATED: 10 Best She-Hulk Crossovers In Marvel Comics
Marvel's She-Hulk Is Gearing Up for an Anniversary
The solicitation for the upcoming issue states that She-Hulk #9 will be the "final showdown" with the Booths. As of writing, the first batch of solicitations for Marvel's March 2023 comics has been released, including details for She-Hulk #11, the beginning of a new arc for the series. The following She-Hulk #12 will be Legacy Issue #175, but what the anniversary may have in store for readers remains to be seen.
Along with Rowell and Miyazawa, She-Hulk #9 is colored by Rico Renzi and lettered by VC's Joe Caramagna. Main cover art for the issue is by Jen Bartel, with variant cover artwork contributed to by Terry Dodson, Rachel Dodson, Cafu, Peach Momoko, Dike Ruan and Neeraj Menon. The issue goes on sale Dec. 28 from Marvel Comics.
Source: Marvel