Digital creator and cosplayer Zainab Jiwa shares her Moon Knight cosplay, showing off her genderswapped version of Marvel's Fist of Khonshu.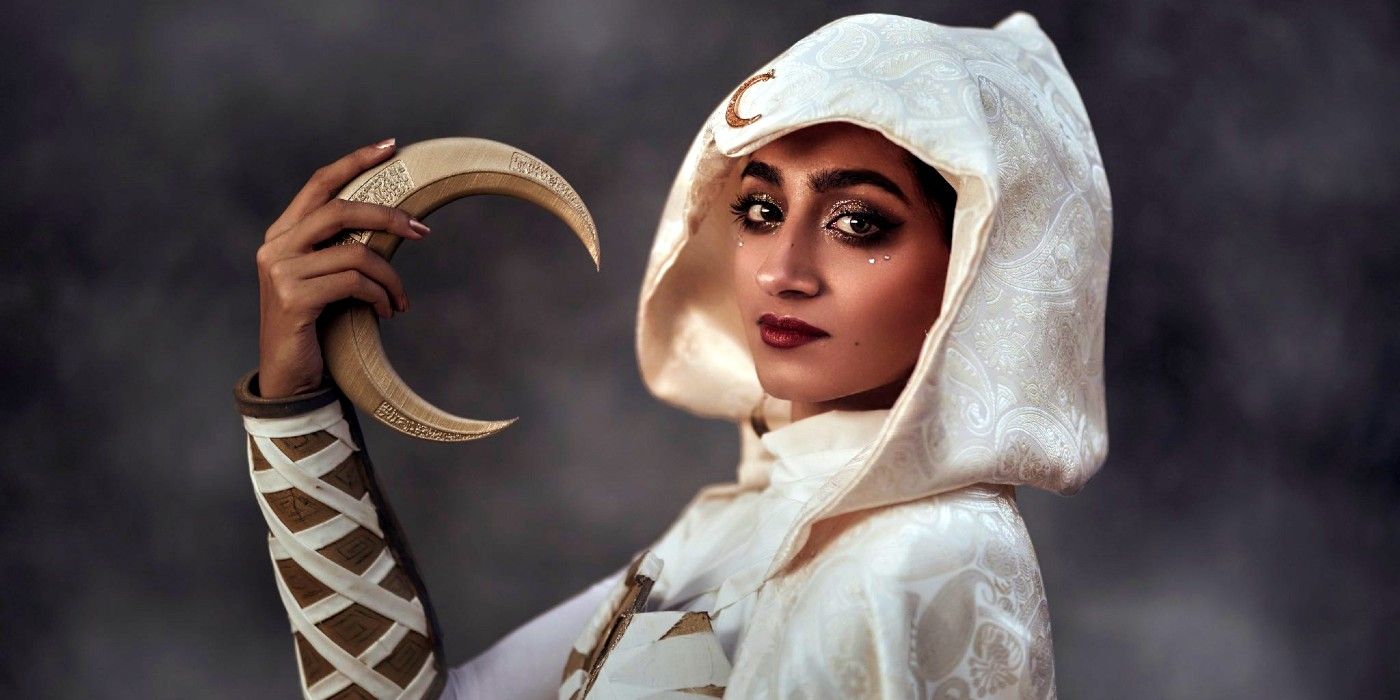 Digital creator and cosplayer Zainab Jiwa's Moon Knight cosplay puts a genderswapped spin on the Fist of Khonshu.
Jiwa shared several photos of the cosplay on Twitter. "Here to show you my Moon Knight outfit that I made," the creator wrote. "A lil messy but I tried to add some of my culture to it." While the cosplay is a faithful reimagining of the original Moon Knight suit, Jiwa added some personal, cultural touches to the costume. In a subsequent tweet, Jiwa wrote that these touches can be seen in "the cloak pattern and my makeup."
RELATED: Moon Knight Fan Creates a Larger-Than-Life Khonshu Halloween Decoration
Starring Isaac as the titular hero, Disney+'s Moon Knight is based on the character created by Doug Moench and Don Perlin. Debuting in 1975's Werewolf by Night #32, Marc Spector is a mercenary who is given a second chance to redeem his violent life by the Egyptian god of the moon, Khonshu. Khonshu makes him the bearer of the god's powers on Earth, or "the Fist of Khonshu," instructing Marc to use his new abilities to protect and avenge the innocent.
The first season of Moon Knight consists of six episodes, in which Isaac portrays multiple characters as a hero with Dissociative Identity Disorder (DID). This includes mercenary Marc Spector and Moon Knight's alter-ego, British gift shop employee Steven Grant and his alter-ego, and Mr. Knight, a more subdued version of the hero. Along with Isaac, Moon Knight also stars Ethan Hawke as Arthur Harrow, the series' primary antagonist and villainous cult leader, who seeks to enact the "justice" of the Egyptian goddess, Ammit, upon the world. In the series, the Egyptian god of the moon Khonshu is voiced by F. Murray Abraham.
RELATED: Moon Knight Season 2 Should Happen Over Multiple Disney+ Series
Will Moon Knight Return to the MCU?
At the time of writing, it has not yet been confirmed by Marvel or Disney that Moon Knight will return for a second season. While Isaac previously teased a potential Season 2 of the Disney+ series, he clarified that there had been "no official word" that the hero would return to Disney+. "We can't definitively say that," the actor said. "I need my teasing abilities. Can't drain me of those. What a cock tease I am. Always been." He added, "We'll see what happens. But at the moment, there's no official word."
While Isaac did not confirm whether there would be a Season 2 of Moon Knight on Disney+, he did state that the hero would likely return to the Marvel Cinematic Universe at some point, though he did not specify where or in what capacity. "I don't think it's– All I can say is that it's not the last we've heard of the system that is Moon Knight," he said.
Season 1 of Moon Knight is available to stream on Disney+.
Source: Twitter