Fiery fan art effectively imagines John Wick and Matrix film franchise star Keanu Reeves as the demon-imbued Marvel hero Ghost Rider.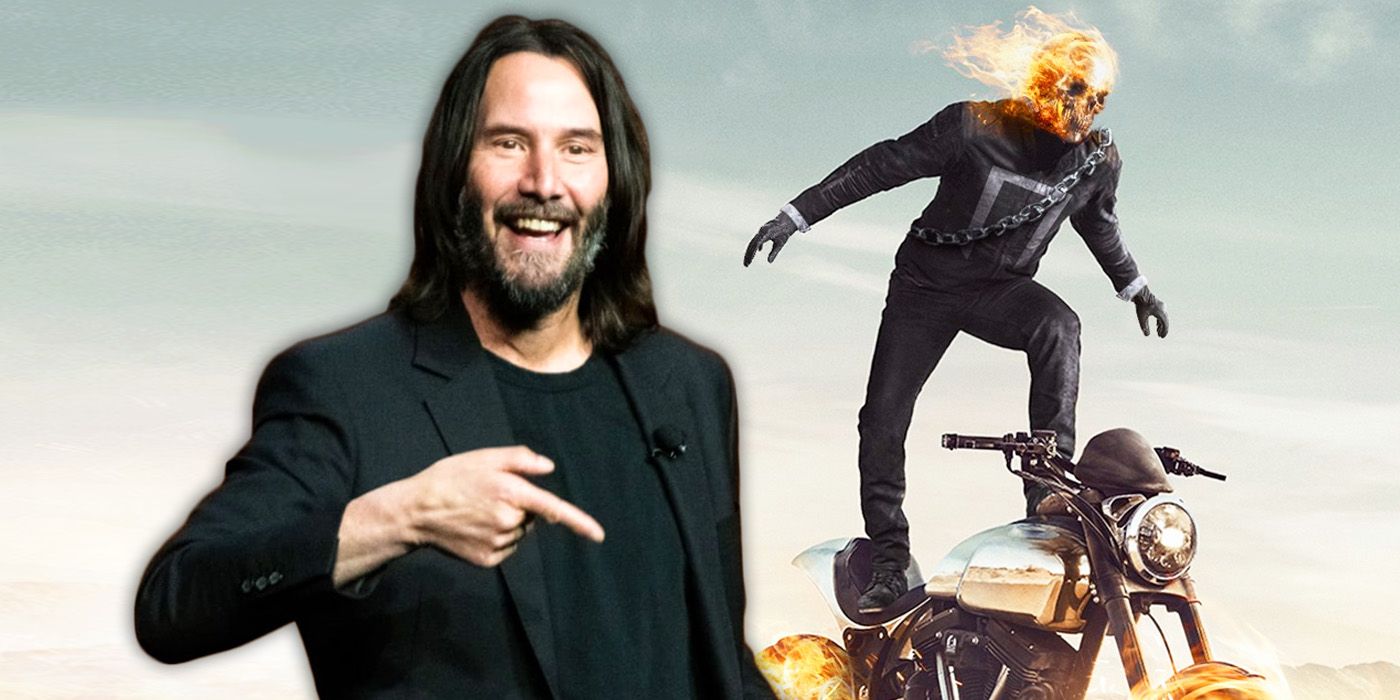 A talented artist and Ghost Rider fan has impressively imagined how Marvel's demonic biker would manifest onscreen with star Keanu Reeves.
Among his several spectacular creations, digital artist Rahal Nejraoui recently unveiled a picture of Reeves as Ghost Rider. The artwork repurposes footage from the actor's 2018 Super Bowl commercial for Squarespace where he's seen riding a motorcycle before building a website for his bike company in the middle of the desert. Adding some fire and a makeshift poster for a potential Ghost Rider film, the post transforms Reeves into the fearsome character, garnering over 12,500 likes on Instagram to date.
RELATED: Keanu Reeves to Star in Secret Film Project From Director Jonah Hill
Will Keanu Reeves Play Ghost Rider?
Whether Reeves will play Ghost Rider remains to be seen, though the Matrix star has hinted at wanting to play the part. During an interview last October, Reeves revealed that becoming Ghost Rider in the MCU would be a dream role for a younger version of himself. Reeves is currently promoting his comic book series, BRZRKR, which he co-wrote alongside Matt Kindt and officially launched on Mar. 3, 2021. The series chronicles the adventures of the immortal warrior Berzerker and will be spun off into a live-action film adaptation as well as an anime follow-up. BOOM! Studios revealed the cover art and synopsis for the series finale of BRZRKR, which will be unveiled in 2023.
Marvel Studios president Kevin Feige previously mentioned the star as a possible name to play a future MCU character, with the award-winning actor confirming he's received offers from them to play an unspecified role. Indeed, Reeves is one of several names linked to playing Ghost Rider in a future MCU film, standing alongside other candidates such as The Walking Dead star Norman Reedus and The Gray Man actor Ryan Gosling, each of whom have also expressed interest.
RELATED: A Ghost Rider Movie Could Bring a New Genre to the MCU – But It's Not What You Think
So far, the Ghost Rider film franchise has two installments, the 2007 original movie and the 2011 sequel Spirit of Vengeance. Nicolas Cage played Ghost Rider/Johnny Blaze in both action movies, with Eva Mendes (Roxanne Simpson) starring as his love interest in the first film, with Idris Elba (Moreau) and Johnny Whitworth (Ray Carrigan/Blackout) co-starring in second.
Despite unfavorable critical reviews, both movies were relative box office successes. Ghost Rider earned $229 million in ticket sales on a $110 million budget while its sequel took in over $132 million on a budget estimated between $57 and $75 million. After Cage announced he was finished with the franchise, Marvel reacquired the film rights to the Ghost Rider character. This led to Robbie Reyes' muscle-car-conveyed version making live-action appearances in the Agents of S.H.I.E.L.D TV series, played by Gabriel Luna.
Reeves will star in John Wick: Chapter 4, with the neo-noir action-thriller film set to open in theaters on Mar. 24, 2023.
Source: Twitter, Instagram