Guardians of the Galaxy Vol. 3 director James Gunn settles a major Marvel Cinematic Universe's debate and once again explains the new Groot.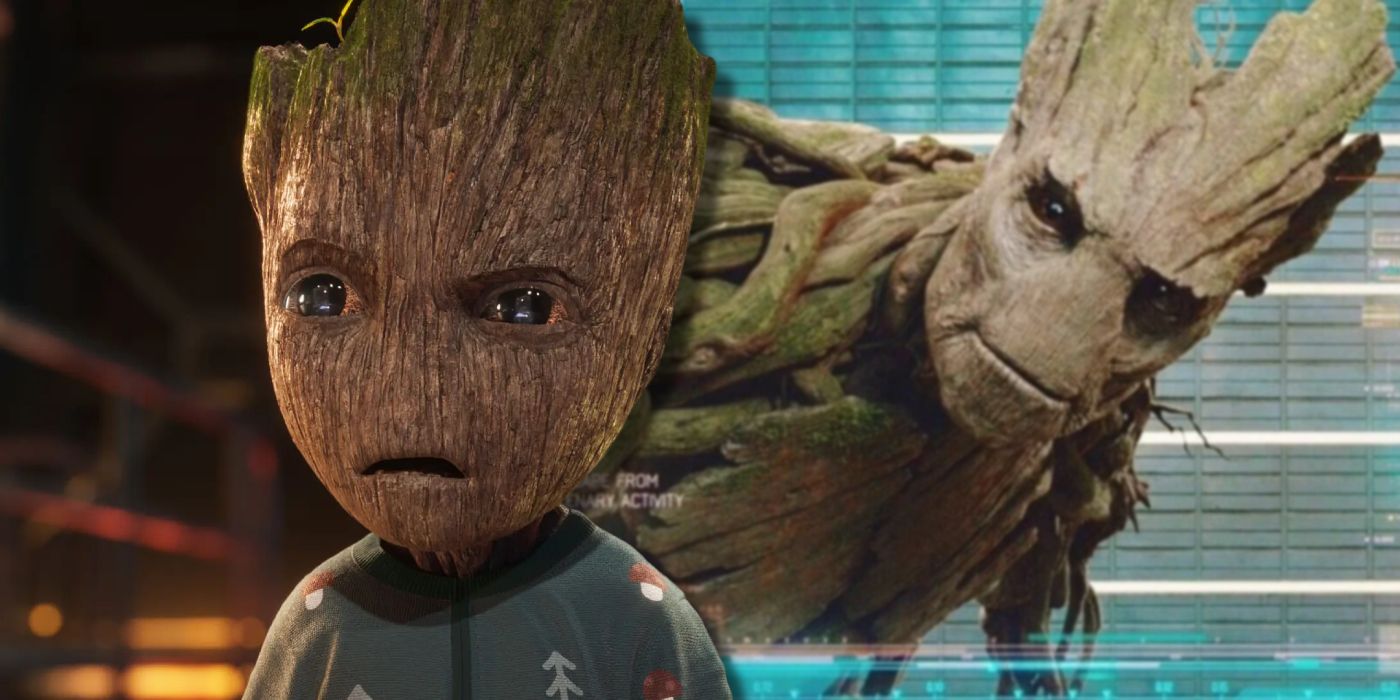 Since the climactic ending of Guardians of the Galaxy Vol. 1 there has been some measure of debate concerning the nature of the Marvel Cinematic Universe's Groot. Some have interpreted him as the same Groot starting anew, while others have taken him to be a new character.
Director James Gunn recently put an end to that debate in a response to a now-deleted post claiming Guardians of the Galaxy Vol. 3 would see Groot return to his original size. Gunn stated, "Nope. That's not even physically possible. He's much broader than OG Groot ever was. He's his progeny & a totally different Groot." It should be noted this is not the first time Gunn has had to explain Groot's current form.
RELATED: Marvel Confirms the MCU's Star-Lord and Mantis Are Siblings
Guardians of the Galaxy Vol. 1 saw the original Groot smashed into pieces in the fight against Ronan the Accuser. One of those pieces, saved by Rocket, went on to spawn Baby Groot, who has grown considerably since then. Guardians of the Galaxy Vol. 2 continued Groot's journey as a child, followed by Avengers: Infinity War, which saw Groot as a teenager, or something akin to a human adolescent.
The new Groot played a pivotal role in Avengers: Infinity War and the Thor films, as he sacrificed his own arm to help create the powerful weapon known as Stormbreaker, the axe Thor wielded when he attacked Thanos and finally beheaded him. The events of Thor: Love and Thunder show the Asgardian continued to use Stormbreaker until he adopted Love. Following the death of Jane Foster, Thor now wields Mjolnir once again, while Love wields Stormbreaker.
RELATED: GotG Vol. 3's Zoe Saldana is Ready to Leave Gamora Behind
While Guardians of the Galaxy Vol. 3 is still some time away from release, Groot recently returned to screens in both I Am Groot series and the more recent Guardians of the Galaxy Holiday Special, which showed him to be considerably larger than before. It's currently unknown how the third instalment in the Guardians trilogy will depict the tree-like alien.
Groot hails from the Planet X, the homeworld of the Flora colossus species– an ancient race of sentient, plant-like creatures. While he can speak, his vocabulary is limited to the three words, "I Am Groot," though he is able to convey a variety of meaning through his use of tones. Beyond that, Groot is an extremely capable fighter. On top of hardened and durable skin, his species also possesses regenerative abilities, the ability to grow tendrils from their limbs and much more.
Guardians of the Galaxy Vol. 3 is scheduled to hit theaters on May 5, 2023.
Source: Twitter