The following contains major spoilers for Dark Web #1, available now from Marvel Comics.
While Dark Web is poised to turn Spider-Man's life completely upside down, it has surprisingly kicked off with a celebration of one of Marvel's most tragic figures. As it turns out, those who were closest to Harry Osborn are still cherishing the friendship long after his death. Unfortunately, the heartwarming scene isn't for everyone who was a part of Harry's time on Earth, and it might be proof that his legacy will always be marred in one way or another.
Dark Web #1 (by Zeb Wells, Adam Kubert, Frank Martin, and VC's Joe Carmagna) sees Liz Allan, Peter Parker, J. Jonah Jameson, and nearly everyone else who played an important role in Harry's life gathered to reminisce and commiserate on their late friend and colleague. The moment isn't just a rare occasion for the old gang to get back together, but for them to catch up without any pretense. While this is great for the likes of Peter and Mary Jane, it isn't an opportunity that is afforded to all of those closest to Harry. In fact, the one person who made more of an impact than any other hasn't even been given the time to be formally uninvited, though it isn't hard to see why no one would want his father, Norman Osborn around in the first place.
RELATED: The Fate of the Multiverse Rests with a Spectacular New Spider-Team
The Green Goblin's Tragic Legacy Lives on in the Marvel Universe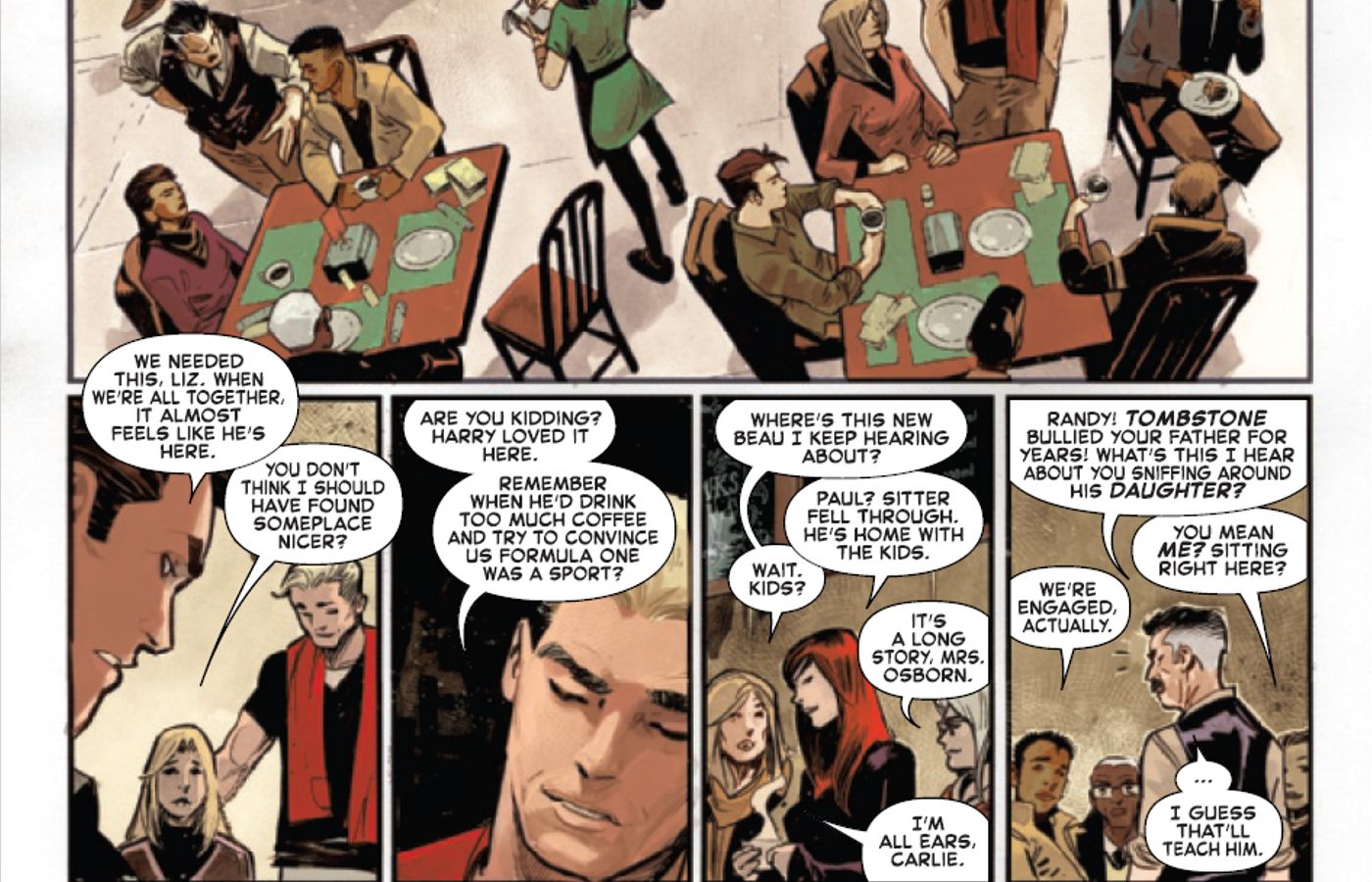 Harry Osborn's first appearance in the pages of 1965's Amazing Spider-Man #31 (by Stan Lee and Steve Ditko) came shortly on the heels of his father's own introduction outside his Green Goblin persona. Harry became fast friends with Peter in their college years, and soon enough the duo became almost inseparable, though their relationship came with its fair share of trying times. Not the least of these were numerous run-ins with the Green Goblin, whose identity was eventually revealed to Harry, as was Spider-Man's. These revelations were more than Harry could take, however, and after taking up his father's old mantle, he tragically perished in a somber moment of clarity.
As devastating as so much of Harry's life was, it was only made all the worse by everything that has come in the wake of his death. His soul was dragged away to Hell by no fault of his own. As it turned out, Norman bargained away Harry's soul during his childhood, kicking off the long string of tragedies that befell the younger Osborn. All of this amounted to Norman being the ultimate villain in Harry's life, yet even his being left out in the cold is far from justice, as the Norman of today is far from the one who bartered with the devil.
RELATED: Spider-Man's Most Demonic Goblin Tried to Become a Hero – And Failed Miserably
Spider-Man's Original Green Goblin Mourns His Son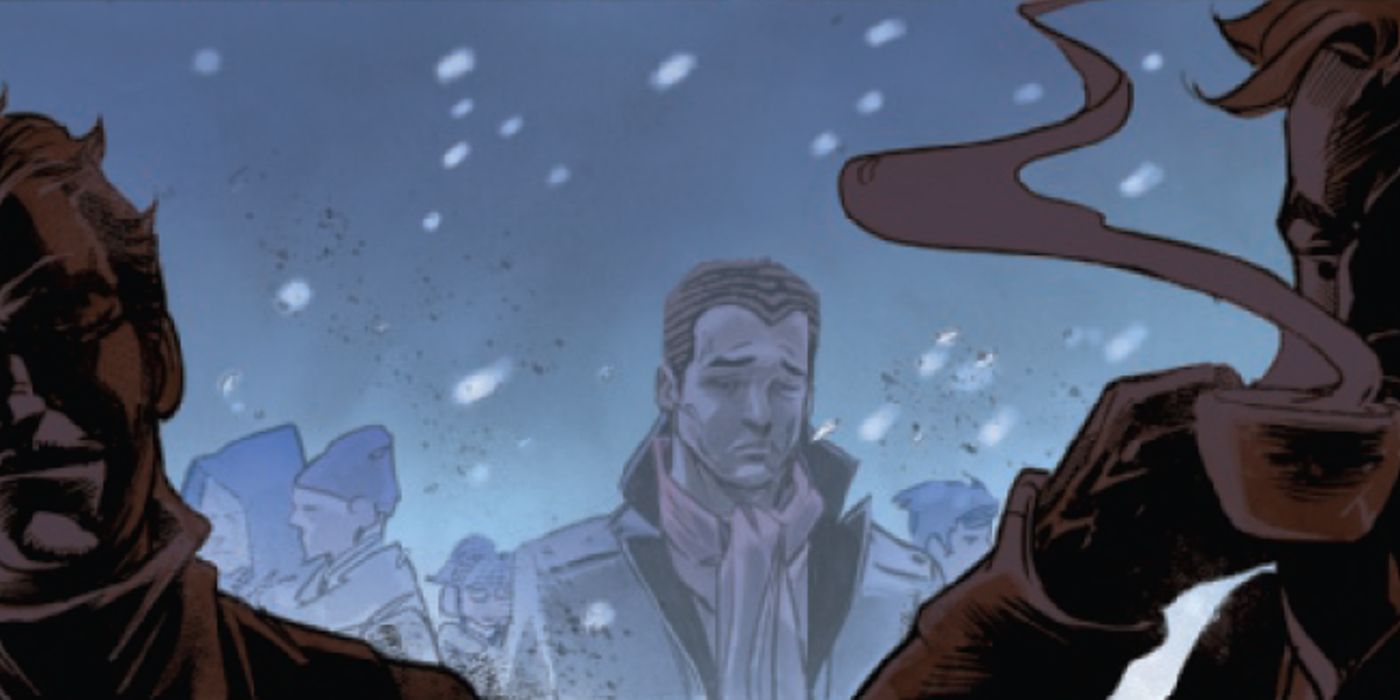 Leading up to the arrival of Kindred and, presumably, the final chapter in Harry's tormented afterlife, Norman fell victim to the Magic Shotgun wielded by none other than the Sin-Eater. Like everyone else caught by the Sin-Eater, Norman was stripped of his powers after being gunned down, and along with them his sins. The validity of this concept was certainly debatable for some time after the fact, yet all signs since then point towards Norman having genuinely shed the Green Goblin entirely.
As such, it isn't the fiendish Green Goblin who is unable to celebrate his son's life, but rather a genuinely grieving Norman Osborn, the man who no one including Harry ever had the chance to know. Peter himself is seemingly the first to do so by working with Norman as himself and as the Gold Goblin, which at the very least says something about the level of good faith the latter has built. At the same time, Norman appears to be getting to know himself for what might be the first time as well, and no matter how much it hurts, acknowledging his hand in Harry's legacy is an indelible part of that.