New Black Panther: Wakanda Forever behind-the-scenes images spotlight the making of the MCU blockbuster's two biggest action set pieces.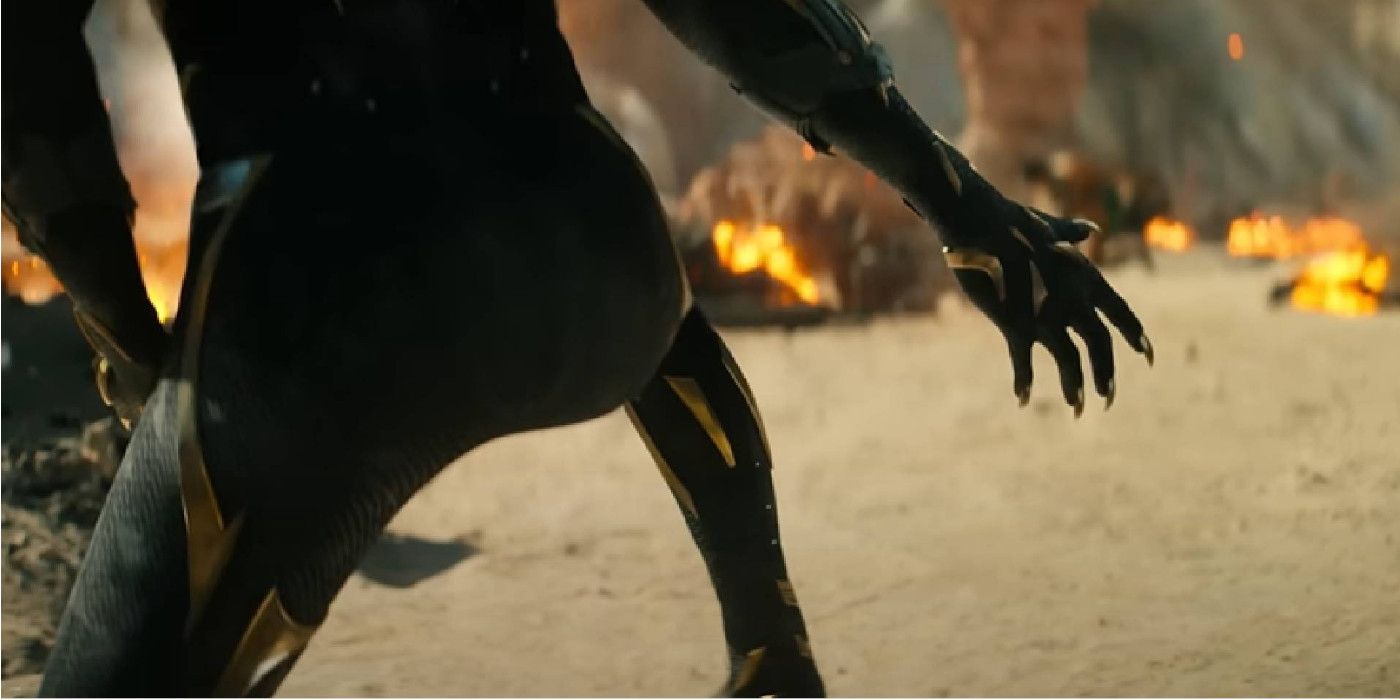 New Black Panther: Wakanda Forever photos just dropped that offer fans a behind-the-scenes look at the Marvel Cinematic Universe sequel's two biggest battles.
The three images surfaced on the r/MarvelStudiosSpoilers subreddit. The first image shows Wakanda's forces, including M'Baku (Winston Duke), Ayo (Florence Kasumba), Ironheart (Dominique Thorne) and Aneka (Michaela Coel), backing away from Talokan troops during Wakanda Forever's climactic battle at sea. The second image captures Namor (Tenoch Huerta) standing tall as the beach sands beneath him explode with simulated weapons fire during Talokan's assault on Wakanda midway through the film. In both of these images, the actors and practical set elements are surrounded by blue screens. This allowed Wakanda Forever's visual effects team to add digital backgrounds during post-production.
Related: Black Panther: Wakanda Forever Sets up a Major Element of X-Men History
The third image offers a close-up view of Thorne suited up in a partial version of Riri Williams' Ironheart armor. It was taken during the filming of Wakanda Forever's final action set piece and the armor in question is the Ironheart Mark II. The actor has since confirmed that the gear she wore earlier in the movie was even more complete, and weighed over 50 pounds. "Unlike some of the other suits that may be added in later with visual effects, the Mark I was all practical," Thorne said. "To get to feel the weight of that on my body and just understand how it moves — you almost want to say it's clunky, but when you have it on, you realize, 'Oh, this is actually such a smart build'."
Namor Smashes His Way Into The MCU
As Riri Williams, Thorne puts both her suits of armor to good use in Black Panther: Wakanda Forever, even going toe-to-toe with Namor himself. Huerta recently opened up about going to war with Wakanda in the sequel, saying it was a challenge to trade blows with co-stars who he has real affection for. "It's a hard relationship. It's not easy. But I love it," he said. "As human beings, actors, I love them. A big family. But [on] the screen, I have to kick their asses." Huerta certainly does that, making ample use of Namor's formidable strength to wreak havoc on his enemies throughout the film.
Related: Wakanda Forever Reveals T'Challa Had a Massive Off-Screen Life
The star is ready to fly back into battle again, too. Huerta confirmed he's keen to headline a Namor solo movie at some point in the future, although he insists that this project likely hinges on how well Black Panther: Wakanda Forever performs at the box office.
Source: Reddit