As the non-superpowered but super-capable heroes of their respective universes, it's only natural that fans compare DC's Batman and Marvel's Captain America, wondering who is the superior fighter. Indeed, several Marvel and DC crossovers have teased an answer to this ultimate contest of equals, however only one actually delivered.
Batman is the ultimate human hero, having become one of Earth's premier protectors despite lacking any superhuman abilities. Bruce Wayne uses ceaseless training and billions of dollars to stay on par with godlike beings such as Superman and Martian Manhunter, protecting Gotham City and the world with an arsenal of gadgets and a veritable army of loyal allies. In contrast, Captain America was given a peak human physique by the Super-Soldier Serum, going on to fight in WWII and the modern day as the undisputed leader of Earth's superhumans. However, while Steve Rogers may have been given his muscles by an experimental treatment, he is still subject to the limits of the human body, existing at peak human potential, but not beyond it.
Related: Daredevil vs Batman Is Settled for Good by the Ultimate Authority
Despite the similarities of their abilities, Batman and Captain America are very different people who fight crime in very different ways, so it's natural to wonder who'd win if the two faced each other in earnest. Various Marvel and DC crossovers have engaged with this question, but frustratingly the answer has always come down to a stalemate. In JLA/Avengers the two spar a little before agreeing they're on the same side, with Batman admitting Captain America could conceivably beat him. Meanwhile, in Marvel vs DC (from Ron Marz, Peter David, Dan Jurgens, and Claudio Castellini), Captain America admits that he's never fought someone who he's so equally matched against before losing on a technicality when the tunnel they're fighting in is flooded. Understandably, when DC and Marvel combine their properties, neither is willing to declare their character the loser. However, in JLA/Avengers, they did exactly that.
Batman vs Captain America Has a Right Answer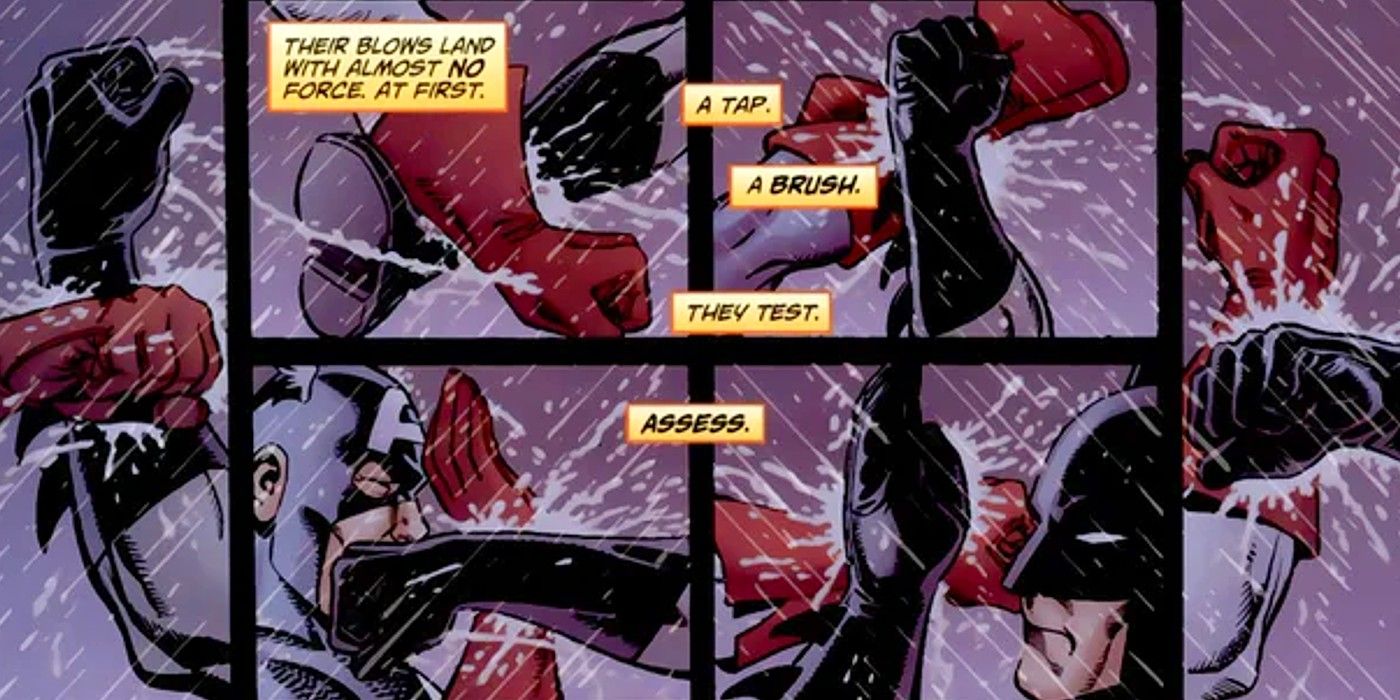 The series sees the Marvel and DC universes crash together, ending with an all-out war between the heroes and villains of each reality. In the battle, Captain America hangs back, using his tactical brilliance to coordinate the fight, however he's targeted by a little-known DC villain known as Prometheus. Prometheus was introduced to DC lore as effectively the opposite of Batman – the son of two criminals who, after their deaths, committed himself to becoming an expert in combat and taking on the forces of law and order. Prometheus is a genius who uses technology to download different fighting styles into his mind, and who also uses strobe lightning in his helmet to disorient his opponents. Crucially, Prometheus has fought both Batman and Captain America in the exact same conditions, with the outcome revealing who's really the better fighter.
Captain America & Batman vs Prometheus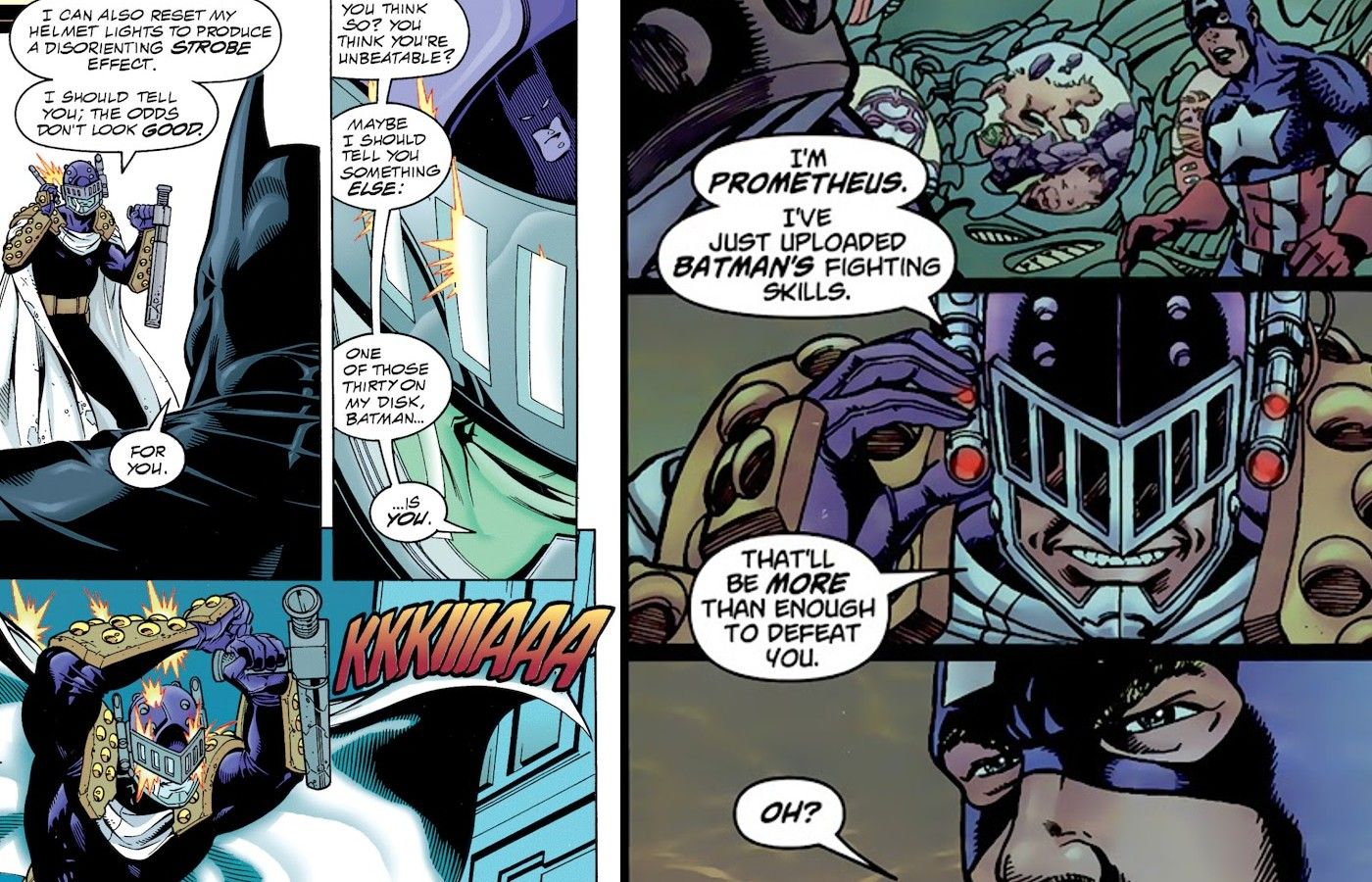 In JLA #16 (from Grant Morrison and Howard Porter), Prometheus faces Batman in a one-on-one fight, revealing that one of the fighting styles he's downloaded is Batman's own. Sure enough, Prometheus beats Batman to a pulp, handing the Dark Knight an unqualified loss. However, in JLA/Avengers #4 (from Kurt Busiek and George Perez), Prometheus faces Captain America, and he's not so lucky. Once again, Prometheus confirms that he's using his strobe weapon and has downloaded Batman's moves, but this time he's demolished, as Captain America reveals that his experiences in WWII taught him to focus in any scenario.
Captain America Beats Batman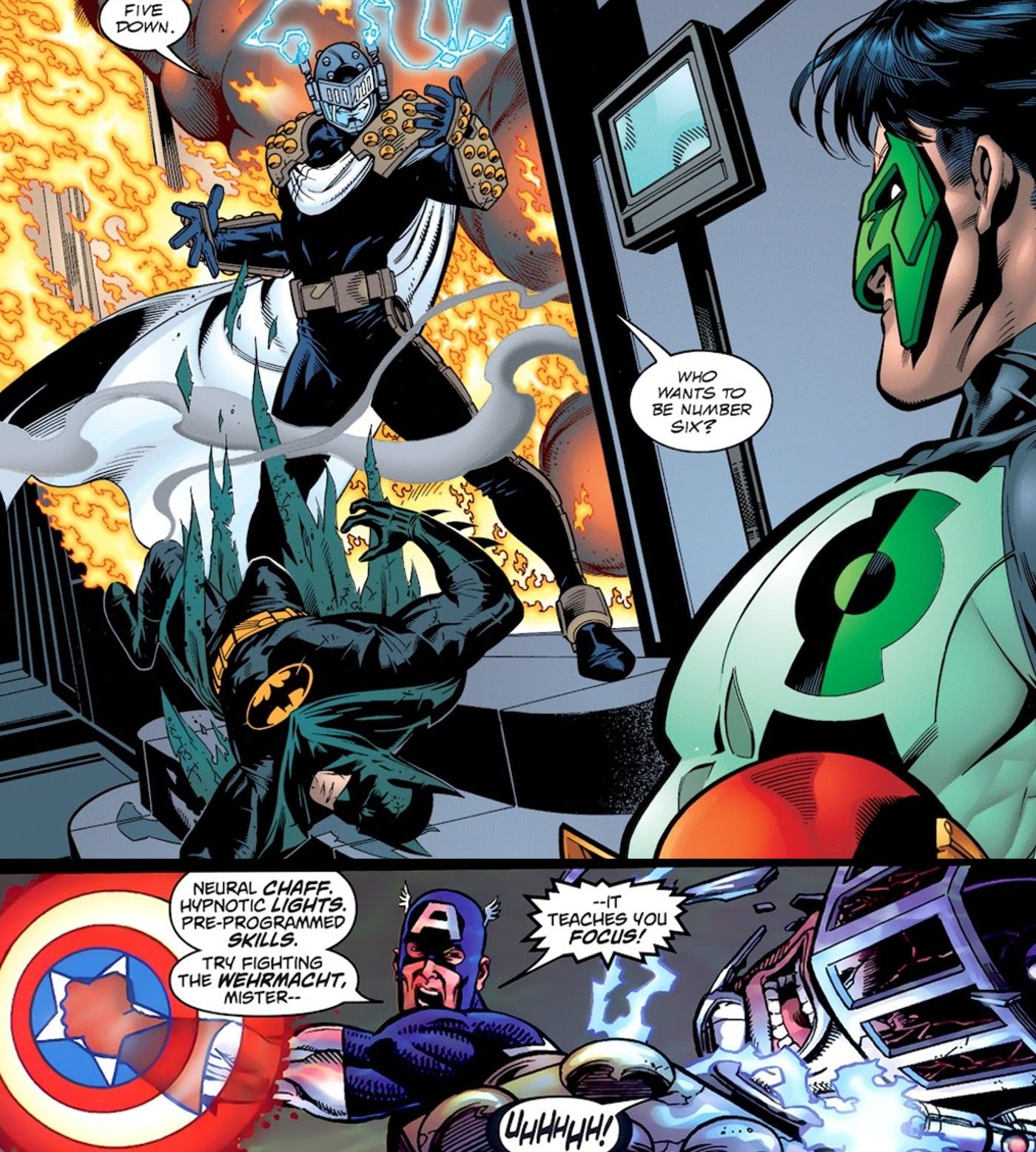 Captain America fighting Prometheus creates an objective point of comparison between his abilities and those of Batman. In both cases, each are surprised by the same villain using the same equipment, and Bruce Wayne falls while Steve Rogers wins out. To cement the results even more, Prometheus explicitly fights using Batman's fighting style, showing that Batman can't beat his own moves plus Prometheus' other advantages, but Captain America can. Ultimately, the winner of any hero versus hero fight will always depend on what the creative team want to happen, but for any fans who simply want the numbers on who'd win in a true, all-out fight, Captain America has proved he has what it takes to outperform Batman when it counts.
Next: Even Superman Considers Captain America a Better Superhero