The lost MCU Spider-Man villain says what many Spider-Man fans have thought for years: Miles Morales is just a copy of Peter Parker.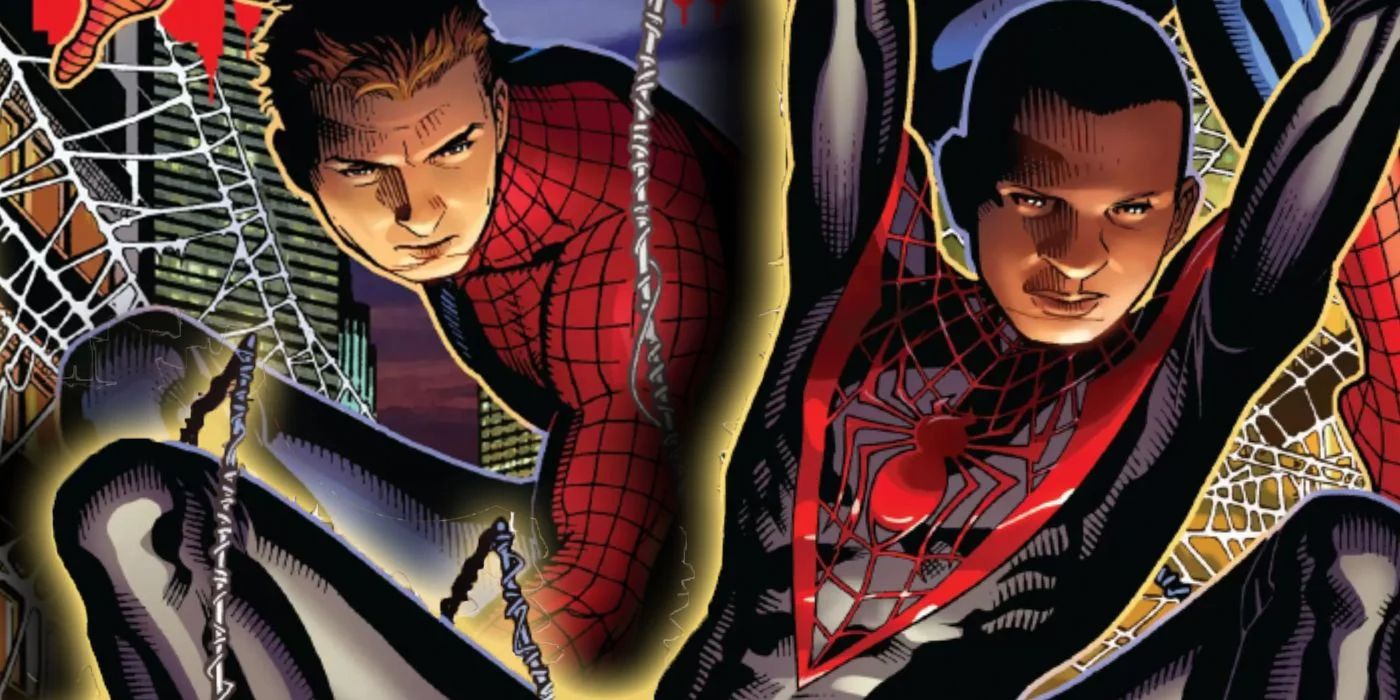 Warning: SPOILERS for Miles Morales: Spider-Man #1
A forgotten MCU villain echoes the questions of Spider-Man fans around the world: is Miles Morales considered a "real" Spider-Man, or is he simply a copy of Peter Parker? Wildly popular, Miles has amassed quite the fan following in a relatively short amount of time and even has a feature film to his name (and two sequels in the works). But Miles Morales: Spider-Man #1 reveals the Scorpion, despite his villainous nature (or perhaps because of it), has a point.
Miles Morales was initially restricted to the Ultimate Universe in Marvel Comics, and had the honor of taking over for Peter Parker when he died in battle (the Ultimate universe rarely resurrected dead characters, unlike the 616 reality within the multiverse). The 2015 Secret Wars event finally brought the two universes together, and Miles was officially brought into the mainline reality thanks to the machinations of Molecule Man. Unfortunately, Miles must exist in a world with Peter Parker, causing many to doubt his place in the universe (both fictional characters and readers).
Related: Spider-Man Cosplay Proves Marvel Needs To Resurrect Shakespearean Spidey
In Miles Morales: Spider-Man #1, written by Cody Ziglar with art by Federico Vicentini, the Scorpion attempts to rob a bank, causing catastrophic damage in the process. Spider-Man swings onto the scene, saving bystanders before engaging the Scorpion in battle. "Was the real Spider-Man too busy?" taunts Scorpion as he rips Miles' webbing from his face. "That why he sent the junior league?" Miles is far too busy to let this insult get to him, but the Scorpion's taunting makes sense in a roundabout way: he's not Miles' villain to fight at all, but Peter's
The Scorpion Has A Point
Miles Morales has amassed his own group of supervillains, but he fights Peter's own rogues gallery just as often. He even has relationships with the relatives of Peter's villains – and the one reoccurring villain from Miles' world, Uncle Aaron, has worn out his welcome (especially in the What If? Miles Morales series). For his part, the Scorpion was heavily teased to be a villain in the MCU's future, but never materialized. Perhaps the Scorpion could fight Miles in a future installment, but in the world of the comics, he is still Peter's villain first and foremost.
Miles Morales has indeed struggled to find his place in a universe that already has a Spider-Man. Currently, Marvel is marketing Miles as a younger Peter – but Peter has already had those adventures, and Miles risks treading old ground. Miles Morales is a fascinating character, but unfortunately, he still exists in Peter Parker's shadow – and while it is possible for two heroes to share the Spider-Man name, they must be different from one another.
Next: Marvel Proves Spider-Man's Overwhelming Guilt Is Totally Justified